Nashville-based motion designer with a primary focus on empathy-driven film-making, animation, and experiential/communication design.
1.513.858.5224
nmp@nathanpowelldesign.com
FOR THE KINGDOM, IF I CAN
"YOU CAN'T DO THIS ON YOUR OWN."
FOR THE KINGDOM, IF I CAN
For the Kingdom, If I Can is an always-evolving documentary aiming to humanize the ongoing opioid epidemic in Middletown, Ohio from the perspective of those within.
Through a series of interviews with Middletown citizens—each affected by the opioid crisis in primary and secondary manners—the video establishes the economic troubles that a once-booming steel town now faces in the modern day, leaving citizens with little hope of success in the future. In turn, always-present small-town individualism—and social stigmas about asking for help—have provided another barrier to proper treatment and discussion of the problem.
Neighboring counties are dealing with the epidemic by forsaking their individualist rust-belt tendencies, but facing the stigma of social benefits means the citizens of Butler County (and in turn, Middletown) are having to find new ways to connect and keep each other strong.
I spent many weeks discussing with my professors to determine the project's ultimate goals, and its effects on both myself and the people I would be interviewing. During this period of introspection, I realized—As a youth, my growing up in Middletown was something I was embarrassed to admit. I didn't want to be associated with it—often even self-deprecatingly mocking it. But, as I've gotten older, I had began to re-evaluate my views.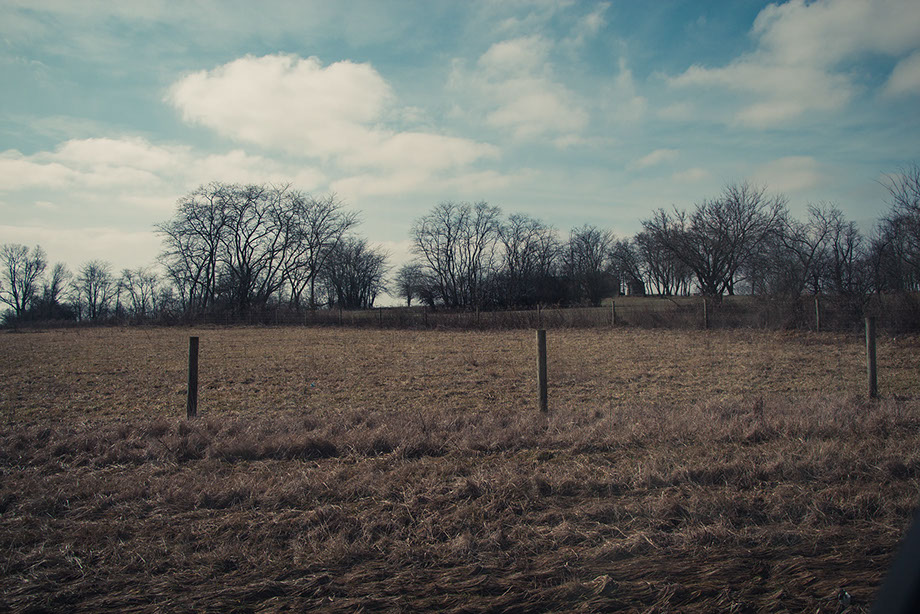 "You can't escape it. And even when you do,
you wonder if you're doing the right thing.
it's ingrained."
— Cameron Meek
Former Middletown, OH Resident
I started to see my hometown in news headlines from NPR, and in J.D. Vance's Hillbilly Elegy (read in preparation for the project). I knew it was my chance to try and right my wrongs—I could show Middletown in a much fairer light, bringing attention to citizens as victims of their upbringing, while still recognizing the faults causing the opioid crisis to propagate..
I could no longer blame my fellow citizens for believing in their symbols of hope, no matter how I may have felt in my youth—after all, that hope was all that these people had to cling to now.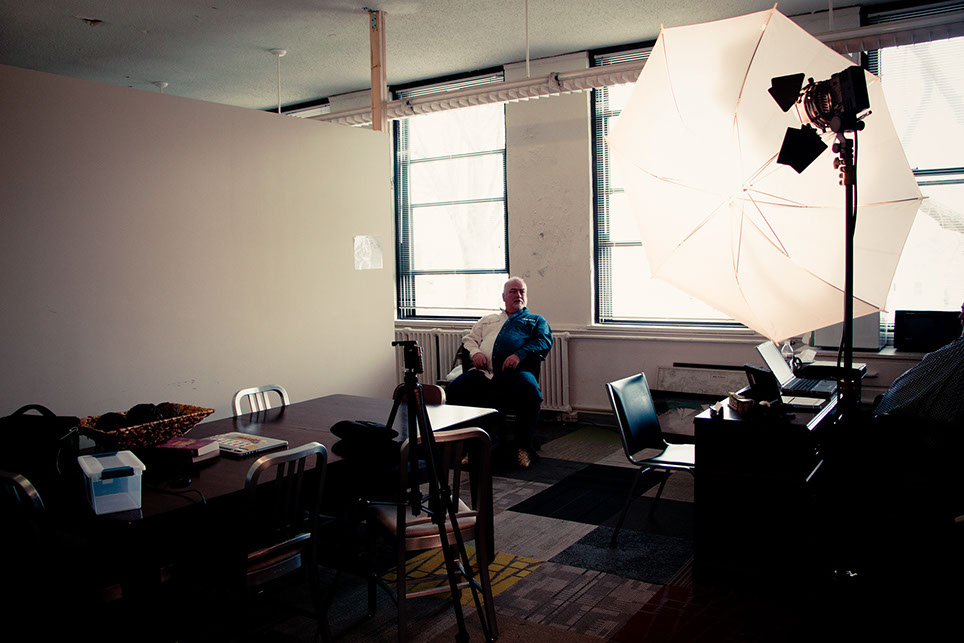 Interviewing recovering addicts, treatment center staff, and others affected by the opioid epidemic has been a truly eye-opening experience. Many of the staff were quick to jump at the opportunity to share their views and desire for aid with the audience of outsiders.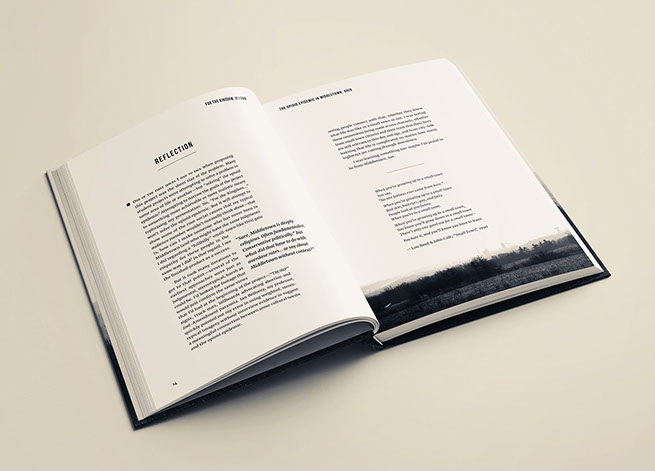 Much of my own thoughts and writings around the issue were on-display in a printed book alongside the completed video at the DAAPWorks 2018 show, with many of the points therein being discussed in an interview with L.A.-based writer artist Mike Daily for his online publication Aggro Rag. The interview is readable in-full here.
The current final version of the documentary can be viewed below.
Baha Mar hotel & casino "Lucky 8"
ENVIRONMENTAL • ANIMATION
In the Fall of 2017, my time with Rockwell Group was predominantly spent designing and animating the Pachinko board content for the Nassau, Bahamas Baha Mar Hotel Casino's "Lucky 8"—a large installation whose digital content was entirely designed by the graphic and LAB teams at Rockwell.
In a very short amount of time, my supervisor Donna Pallotta and I were tasked with conceiving and animating a unified design direction for the Pachinko function of the board, with the only specification being the use of 4 DPI LED screens, and that the "balls" would be "emojis."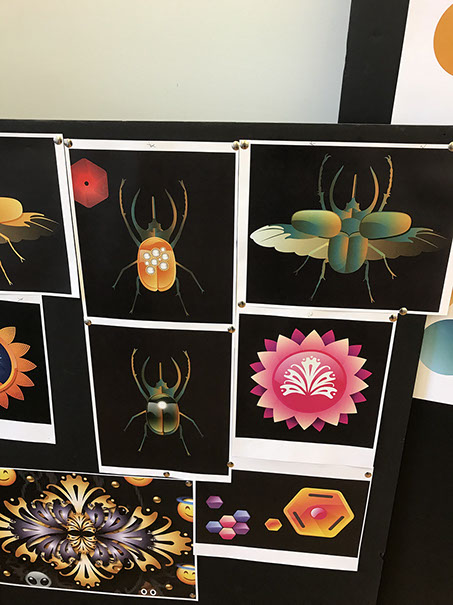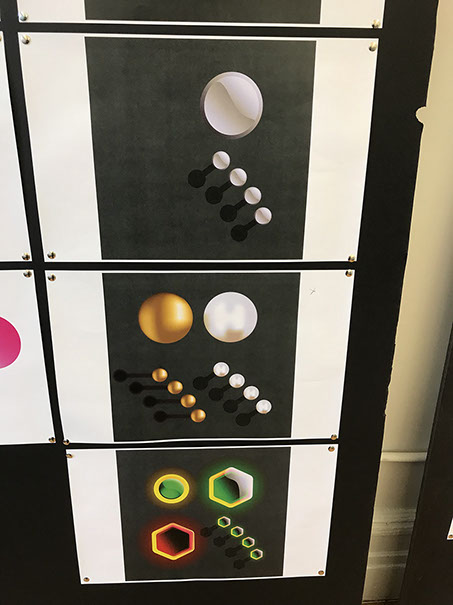 From the beginning, Donna and I chose to focus on using a colorful native wildlife approach, while remaining grounded to compliment the more "over-the-top" element of the emojis. Many different treatments of gradients, specular highlights, and other minor elements were planned out before finalizing any one particular element—allowing the final system to be consistent from the very beginning.
Following the initial direction phase, we moved to approaching the design from a functional view—considering what images, icons, and so forth would animate best on such a unique field, and which of our icons would function as "flippers".
Once done, I created a series of storyboards to properly plan out how each individual icon would animate in 3 states—"Appear," "Active," and "Ambient."

Each icon was designed and animated at a large scale, with much consideration given as to how each graphic would appear on the 4 DPI LEDs. As such, every graphic was tested during the design phase to ensure visibility and interpretation was not an issue for such a low resolution screen.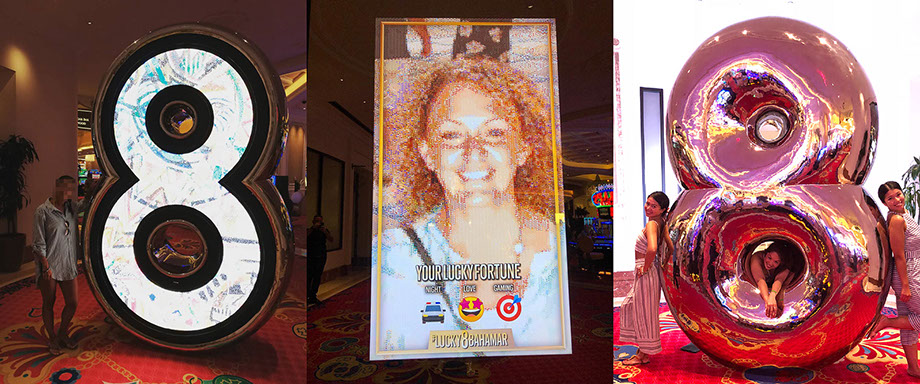 The design team also worked to create a "Fortune" screen as well—and you can continue to see attendee's social media posts using the tag #Lucky8BahaMar.
NHL All-Stars 2016 / CFP Playoffs 2016
For the final third of 2015, I was lucky enough to work with the team of designers at Infinite Scale Design Group (or ISDG) on environmental graphics packaging for several professional sporting events, including the 2016 College Football Playoff National Championship in Phoenix, AZ and the 2016 NHL All-Star Game in Nashville, TN.
Much of my work involved the architectural side of things—working directly with designer Dan Phillips, designing and laying out graphics for specific environments using measurements gathered on-site from the rest of the team at Infinite Scale.
My position was with a new branch of the company in Covington, KY.
Photos credit: KJ Images, Dan Phillips, ISDG
Each entrance around the University of Phoenix Stadium had a different player/type treatment to accommodate each team's respective locker rooms, and our client presentations had to ensure that all prospective teams were functional designs in the lead-up to the final game—as in the weeks before, it was not certain who would be competing just yet. Left, we see the "Sponsor entrance."
The exterior, in turn, was modified to account for each entrance as well. Both mockups above are examples of materials created for the purposes of presenting to the client. Elevations and additional imagery were created for presentation purposes as well.
With the All-Star project, our team was able to work with provided assets to create new typographic elements that could go on banners to be placed outside of Bridgestone Arena, as well as a series of large-scale Pucks as below.
MOTION • ACTIVISM • AWARD-WINNING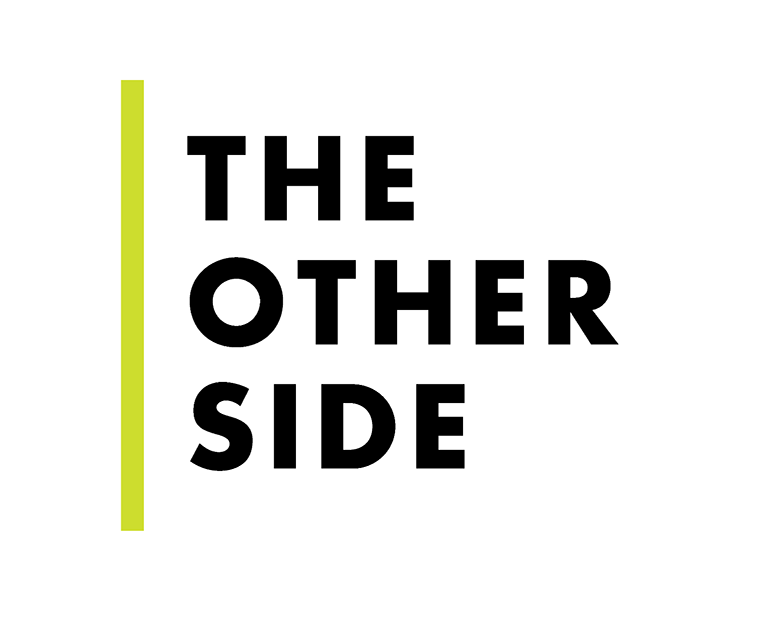 "IT'S NOT ALL BLACK AND WHITE."
The Other Side is an award-winning multi-media project aiming to establish empathy of others and generate thoughtful, open discussion on matters of race and police behavior.
Our group's goal was to address and eliminate police and civilian biases that exist in the community. The Other Side's system of deliverables aims to connect with audiences across a variety of touch-points, from emotionally-charged imagery to and public installations to social media awareness and activism.
The Other Side is a group project created with fellow designers Becca Kaiser, Allie Lozinak, and Rachael Rosa.
My individual responsibilities were to aid in the design of the original posters and wordmark, cooperate in outlining the concept, and to film and edit the video piece (shown below).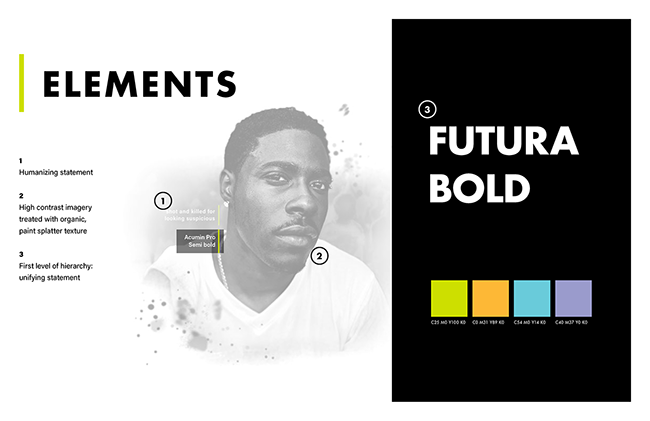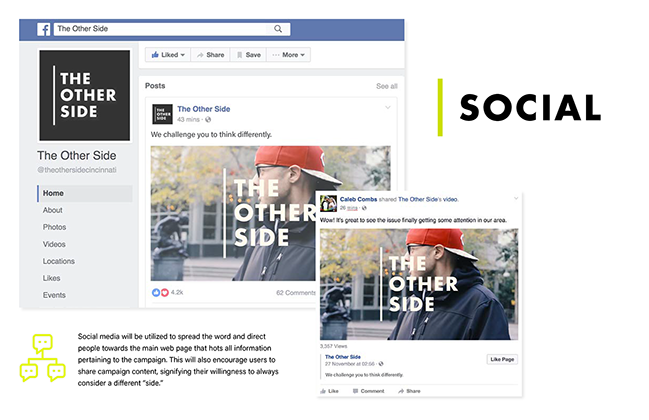 The project attempted to cross multiple boundaries with multiple applications—connecting with those within the area through a public installation (as sketched below), and even those outside of the Cincinnati metropolitan area through social media/video promotion.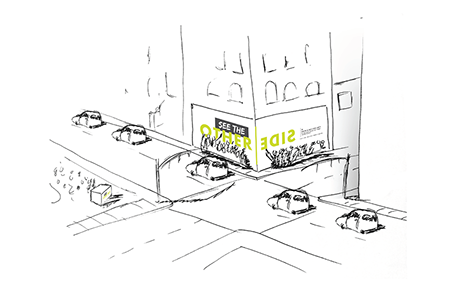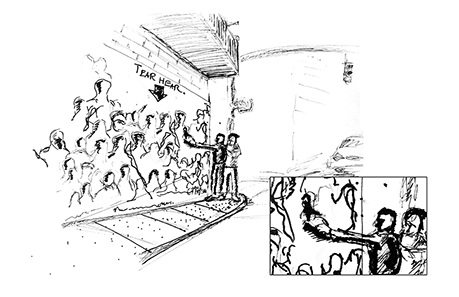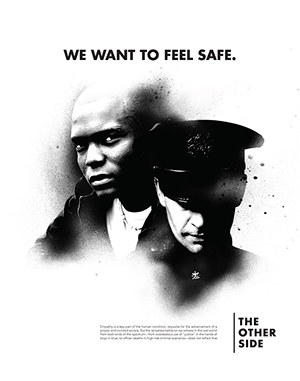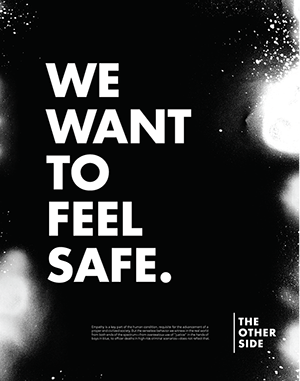 Much of the project relied on creating a visual language that communicated across barriers without stereotyping or generalizing any parties involved. Many peer-reviewed early entries were specifically critiqued for this purpose.
The video portion of the project was created as a means of sharing real people's emotions and opinions from the streets of Cincinnati, encouraging open-mindedness in a time of stress and frustration from many parts of the community.
The Other Side was selected as 1 of 17 posters (out of 340 total submissions) to be selected as part of the "VIP" presentation at the 2017 Undergraduate Research Conference, selected because "the subject matter is particularly relevant to (1) Cincinnati, or (2) the current state of affairs on a national/global scale...", and was later recognized for being in the top 10% of presentations at the conference.
2005 Huyana Way,
Spring Hill, TN 37174
1.513.858.5224
skills
Adobe Creative Suite
(Photoshop, Illustrator, etc.)
Cinema 4D Modeling/Animation
Microsoft Office Suite
(Professional/Corporate/Personal) Photography & Cinematography
Interview Staging, lighting
Physical/Digital Sketching
Both MacOS and Windows platforms
Video/Audio Editing
education
Bachelor's of Science in Design
University of Cincinnati, College of DAAP
Cincinnati, Ohio
Five years of study in the Graphic Communication Design Program at the College of Design, Architecture, Art, & Planning (or DAAP), alternating semesters of classroom study with work in the professional field.
Class of 2018, 3.6 / 4.0 GPA
activities / awards
Rock Band Road Crew
1 of 500 Members — September 2015 onward
One of 500 personally-selected members (selected from a film application process) to aid in sharing and marketing the release of Rock Band 4 with the support of A-level game developer, Harmonix.
Assorted Awards and Experiences
"VIP" Award, top 10% of 310 entries at the University of Cincinnati Undergraduate Research Conference
Robert Probst Scholarship recipient, Fall 2016
DAAP Alumni Scholarship recipient, Fall 2016
National Honor Society Member/Honor Graduate


work experience
Rockwell Group Co-op Position
New York City, New York — 2019 - 2020
Animator/Print designer for high-level architecture firm
Worked directly with several different in-house studios on both external and internal projects, including motion graphics and book layouts. Collaborated with company CEO David Rockwell on animation for his own public speaking appearances. Edited and recorded film for new PR purposes. Created animations for luxury products.

TiER1 Performance Solutions Co-op Position
Covington, Kentucky — Spring 2017
Animator/Print designer for innovative client services
Participated in nearly every stage of the design process on projects ranging from in-house videos to large-scale client presentations. Worked with the team as needed to design for the TiER1 Brand as well as presentation graphics for clients in the Cincinnati area and beyond.
Infinite Scale Design Group Co-op Position
Covington, Kentucky — Fall 2015
Print designer for professional sport environmental graphics
Worked with a small team to create environmental graphics for College Football Playoffs 2016, NHL All-Star 2016, and NHL Stadium series 2016 events.